4 Tips to Get Your People Analytics Strategy 2020-Ready
By Emily Lambert | July 22, 2019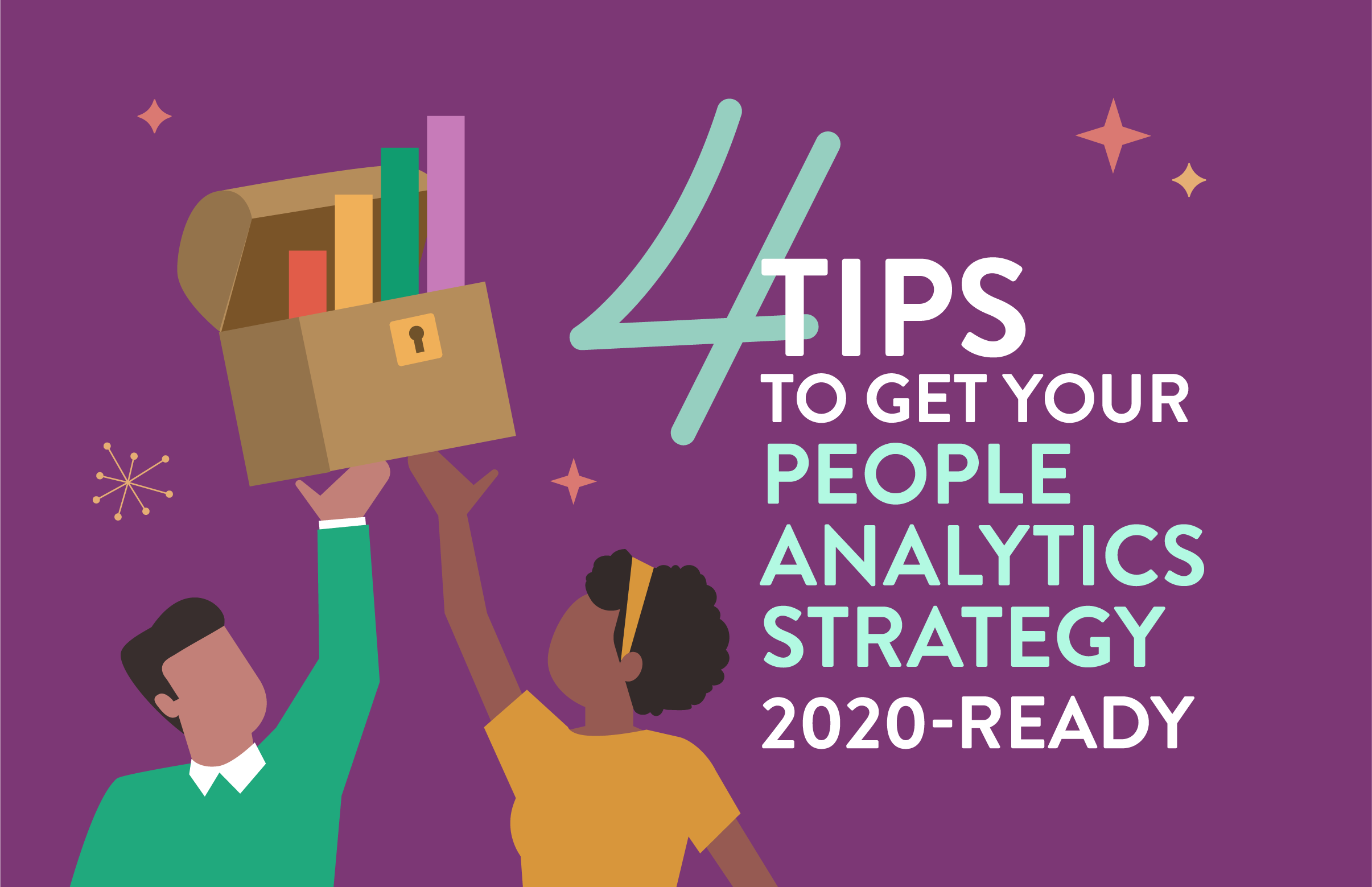 Do you know the new rules of people analytics?
We're more than halfway through 2019 – which means it's that time of year when HR teams are reflecting on the data they've gathered during the first half of this year, strategizing how to meet goals by the end of the year, and planning people analytics priorities for next year. There are some "new rules" when it comes to people analytics (which we cover in more detail in our latest e-book) that will set your HR team up for success into 2020 and beyond.
If the "old rules" of HR analytics – operational reporting such as absenteeism, time-to-hire, and turnover rate – are all about identifying inefficiencies and gaps internal to the HR team, then the "new rules" entail seeing the bigger picture. In other words, understanding how people are making an impact on the business today, and how predictive analytics can prepare your workforce and your organization for tomorrow.
We talk a lot about the future of work, where new jobs will emerge as others are automated at an unprecedented rate. Those responsible for hiring and redeploying existing talent – HR and Talent teams – will need to face this massive workforce migration head-on. With so many other pressing day-to-day responsibilities, it may be difficult for HR leaders to prioritize preparing for this disruption because it seems so far down the road. But it's coming quicker than you may expect, and forward-thinking executives know it.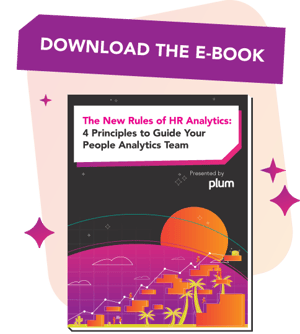 Senior business leaders are becoming more invested in talent acquisition and talent mobility than ever before, since the scale of this workplace game of musical chairs means the success of the business relies heavily on predictively getting the right people in the right seats. As a result, HR will no longer be seen as simply a facilitator (or even a barrier) to organizational outcomes, but a strategic business driver. Quintessentially, that's what the "new rules" of people analytics is all about – getting your HR team thinking like business leaders now, since it won't be long before they're being asked to sit at the table.
All this to say, HR needs to step up its analytics game to answer the questions that are keeping your senior leaders up at night. Getting your analytics strategy 2020-ready means getting it future-of-work-ready. Keep these four rules in mind as you begin to plan your 2020 people analytics strategy.
1. Ask the right questions
Preparing your people analytics strategy for the future of work doesn't mean simply ditching some of the basic operational reporting we mentioned above – metrics like cost-per-hire and turnover rate. Rather, the new rules of people analytics will require teams to build off that foundation of operational reporting of efficiency and compliance measures, using predictive and prescriptive analytics to answer your senior leadership's most pressing questions.
These questions should address every stage of the employee lifecycle, such as...
Hiring — "What talent dimensions predict success now and in the future?"
Career Pathing — "How can we predict whether someone will be a good fit in a role when making a cross-departmental move?"
Learning & Development — "How do we align learning & development efforts to business outcomes, and how do we measure the financial impact of this strategy?"
Diversity & Inclusion — "Are all employees equally considered for leadership positions?"
Identifying Emerging Leaders — "Will the leaders we identify today be able to serve the markets and product/services we will sell in the future?"
Employee Engagement — "How do we keep employees engaged in a work environment that's seeing more machines and automation?"
To get a seat at the table, HR teams need to start thinking like business leaders. And that starts by asking your organizational leadership's biggest questions, and using predictive analytics to begin to answer them.
2. Prioritize collecting clean, universal data
Only 15 percent of organizations believe their HR teams have strong credibility in talent metrics and analytics today. 8 percent of organizations report they have usable data.
As career paths become increasingly unpredictable and unconventional, without clean and usable data, HR and Talent teams will struggle to place the right people in the right roles. A universal talent dataset consists of predictive people data that can be leveraged in every business unit. It breaks down the siloing of data in an organization, enabling data-driven decision-making when it comes to cross-functional career moves.
An example of high-quality data that can be used to build universal datasets is psychometric data. Psychometric assessments allow employers to assess dimensions of a person that wouldn't necessarily be clear on a resume or performance review, like problem-solving ability, social intelligence, and personality.
For that reason, we recommend conducting a data audit and identifying the data you're collecting that isn't clean and isn't universal across the organization. Replacing those data collection efforts with universal talent datasets, such as psychometric data, will better set your HR and Talent teams up for success as you begin to prepare for increasingly cross-functional career moves within your organization.
3. Get the C-Suite Bought-in
Rule 2 is a prerequisite for rule 3 – when there is little intentionality put into ensuring that HR data is clean or reliable, it can compromise the C-suite's trust in it. The function of a people analytics team is to enable business leaders to make data-driven decisions. For that reason, people analytics cannot be successful without C-suite engagement and buy-in.
People analytics teams need to understand that executives have a lot on their plates and can't always spare the bandwidth to take deep dives into data analyses. Hence, storytelling must become a central component to analytics teams' communication abilities.
People analytics is progressively shifting from "pull" to "push," where the analytics team no longer simply builds models and does projects, but now develops dashboards and tools that help managers see relevant data in real time. The focus on storytelling and anytime accessibility enables business leaders to feel less burdened and overwhelmed by complex data, and empowers them to feel a greater sense of ownership and authority over the data findings, securing the C-suite's buy-in.
4. Purposefully Engage Employees
With recent data privacy and security scandals that have had consequences like potentially swaying elections, people are understandably more wary than ever to willingly make their data available, especially to their employers. On the other hand, 90% of employees are willing to let their employers collect and use data on them and their work if they benefit in some way. Leaders and people analytics teams need to understand that an equitable exchange must be implemented when gathering workforce data.
Ultimately, whether your employees are bought-in to willingly contribute their data will come down to your company culture. If your culture lacks transparency and communication, your employees will be more hesitant to give their information to a "black hole" of uncertainty. However, organizations with mature people analytics processes are 3X more likely to have senior leadership frequently communicate the importance of data-driven decision-making. Senior buy-in is not just critical for analytics teams to be successful, but it's also necessary for employees to thrive. When executives are bought-in, employees are bought-in.
As the future of work disrupts the workforce of today, HR and Talent leaders will find themselves with a seat at the table more and more. HR will progressively be viewed as a strategic business driver. To take a deeper dive into the four "new rules" of people analytics and what next steps you can take today to apply them to your 2020 people analytics strategy, download our latest e-book, "The New Rules of HR Analytics: 4 Principles to Guide Your People Analytics Team."