Welcome to the second post in our series about candidate experience! In our previous post, we looked at a few of the trends that are making 2020 the year of candidate experience. Did you miss it? You can find it here.
Low unemployment rates and record numbers of unfilled jobs have put candidates in a position of power. Caitlin MacGregor, CEO and Co-Founder of Plum : "The candidate is in a market where they can be very picky and choosy about who they want to work for and companies need to present themselves so that they're more likely to be selected. That means putting the candidate first—the candidate becomes the customer."

When applying for a job, most candidates share a basic list of requirements: they'd like to be treated with respect and expect clear communication from employers. Research from IBM's Smarter Workforce Institute backs this up: three things organizations can do to improve their candidate experience are enhance employer branding, improve communication, and treat all candidates well.
It's time to think of candidates as customers
Here's the thing—when searching and applying for a job, candidates expect the same ease of use and convenience that they see in the apps and websites they use every day. Things like enhancing employer branding, improving communication, and treating all candidates well... in 2020, these aren't creating an exceptional experience; they're simply meeting candidates' expectations. They're table stakes. By this point, factors like speed, communication, and transparency should already be at the foundation of your candidate experience. Caitlin says, "When it's about allowing a candidate to quickly and seamlessly apply and stopping there, there's really a missed opportunity to make sure that the candidate experiences the value that you can deliver as an employer to them." It's time to shift your focus to providing value for every job candidate.

To truly reap the benefits of candidate experience and stand out as a people-centric employer, it's time to go beyond simply meeting expectations and add value to every candidate's experience . Instead of walking away feeling like their minimum expectations were met, candidates can instead walk away understanding more about themselves and how they can even better market themselves for the next opportunity.
What we can learn from the hospitality industry
The hospitality industry can teach us a lot about what it looks like to create a value-adding experience.
When asked about his definition of hospitality, Shake Shack founder Danny Meyer said: "Hospitality, as I define it, is very simple. It all comes down to one preposition: 'for.' If you feel like the other guy did something for you, that's hospitality. If you think about every single transaction you go through in life, you don't necessarily feel like they did something for you. In fact, sometimes you feel like they did something to you. And by the way, if you ask for your salmon rare and I bring it to you rare, that's not hospitality. That's what you expected. Hospitality might be that I remember, and I don't even have to ask you."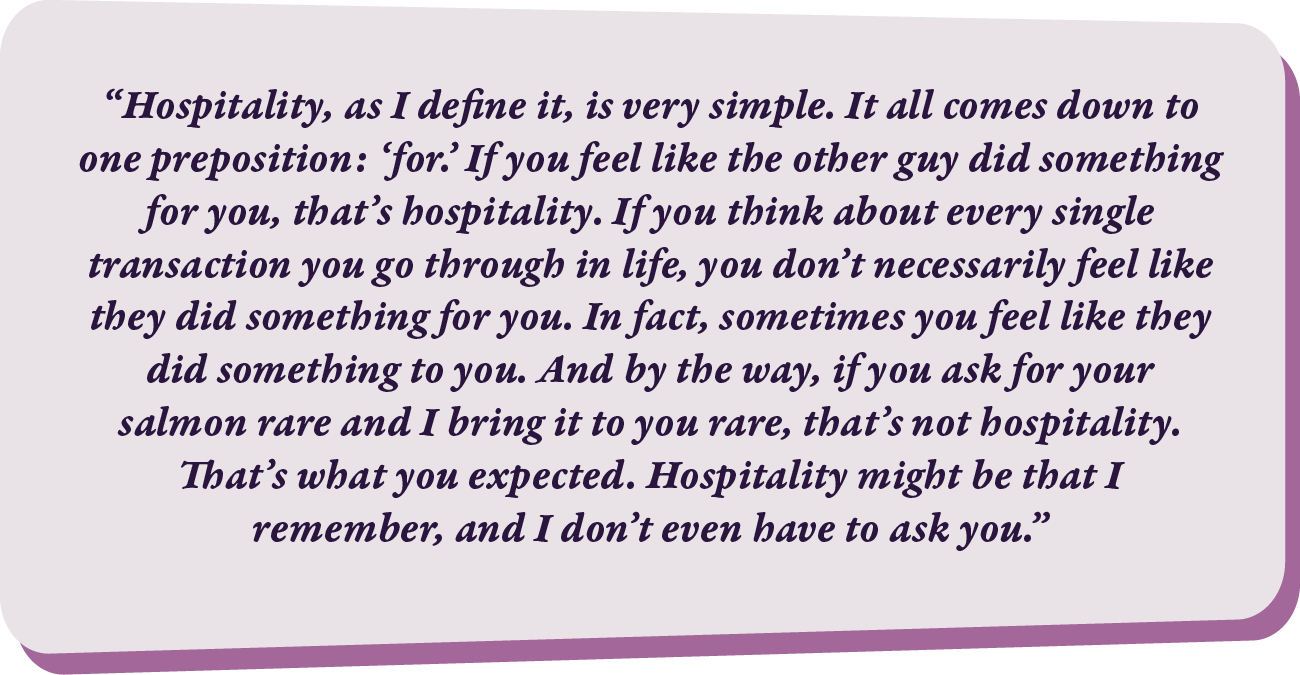 Are you for your candidates? Or are you simply meeting expectations?
Think of it this way—imagine you stay at two different hotels. At the first one, the hotel staff greet you with a smile, the rooms are clean, you check in and check out quickly and without any hassle. That's about what you'd expect when staying at a hotel, right?
At the second hotel, the concierge at check-in proactively tells you what's going on in town that weekend and points out roads to avoid because of construction. You briefly mention that it's your anniversary, and moments after entering your room, you're greeted with a bottle of champagne and a card signed by the hotel staff. When you check out, they remember your name and where you're traveling from.
Neither of these hotels necessarily presented a bad experience, but which hotel are you most likely to return to? The second one, right?
When you see candidates as potential customers, understanding the importance of being for candidates becomes increasingly clear. Even if you're not a business-to-consumer company and candidates are unlikely to become your actual customers, being able to keep a solid talent pipeline of "silver medalist" and future-fit candidates is invaluable for any business. This is why it's become increasingly common to see candidate relationship management (CRM) tools in the talent acquisition world. Many companies recognize the benefits of maintaining relationships with former candidates and tapping them first when new roles open up in the future.
Building a candidate experience that provides value for every single applicant means being for your candidates. And part of being for your candidates is understanding that they put a lot of time, energy, and resources into applying for a job. You need to communicate to job candidates that you honor that sacrifice.
In this economy of low unemployment rates, the majority of job applicants are passive applicants—working individuals who aren't actively looking for a job. People who are employed while interviewing take an average of two days off work to interview for a new position. Not to mention, applicants in general give up a lot when they apply for a job. They willingly hand off so much personal data—detailed resumes, answers to applicant tracking system (ATS) knockout questions, cover letters written with time and care... and when they get nothing in return, any job candidate would be disheartened. When they aren't provided with some element of value, candidates feel like they are on the losing side of an exchange of information.
So how do you make sure your candidate experience is valuable for job candidates? And, more importantly, how do you ensure you are providing that equitable exchange at scale so that it touches every candidate? These are the topics we'll cover in our next blog post in this series!
Can't wait until then? Download our eBook, The 2020 Guide to Candidate Experience, for tips on how to exceed expectations and deliver a value-added candidate experience.