Candidate experience is not a new topic within the HR world. For years now, HR and talent professionals have understood that candidate experience is important.
After all, for many companies, job candidates are also their customers. Candidates who are satisfied with their hiring experience—regardless of whether or not they get hired—are
twice as likely
to become a customer of the hiring organization compared to unsatisfied candidates.
Candidates who have a negative recruitment experience, on the other hand, are more likely to take their alliance, product purchases, and business relationship somewhere else—and may negatively impact the purchasing decisions of those in their social circles along the way. 65% of candidates with a negative experience share it with their inner circle of friends and family, and 35% of candidates who have a negative experience with a company share it online through channels like social media, Glassdoor reviews, and Indeed reviews.
And these reviews can have a real impact on how an employer is perceived by prospective candidates. Research from Glassdoor shows that the majority of Glassdoor users read at least 6 reviews before forming an opinion of a company, and 70% of people now look to reviews before making career decisions.
The numbers show us that a positive candidate experience can lead to greater advocacy, but it's also linked to greater job acceptance, too. According to research by the IBM Smarter Workforce Institute, people who are satisfied with their candidate experience are 38% more likely to accept a job offer. And even job applicants who did not receive a job offer are 80% more likely to apply again to the same company if they had a positive impression of the hiring organization.
On the other hand, a poor candidate experience may negatively impact whether "silver-medalist" or future-fit candidates apply to the company again. Research by the Talent Board finds that candidates who rate their experience as 1 star out of 5 state that they are willing to sever their relationship with the employer altogether. This makes sense given the fact that 95% of employed American adults agree that the way a potential employer treats them as a candidate is a reflection of how they would treat them as an employee.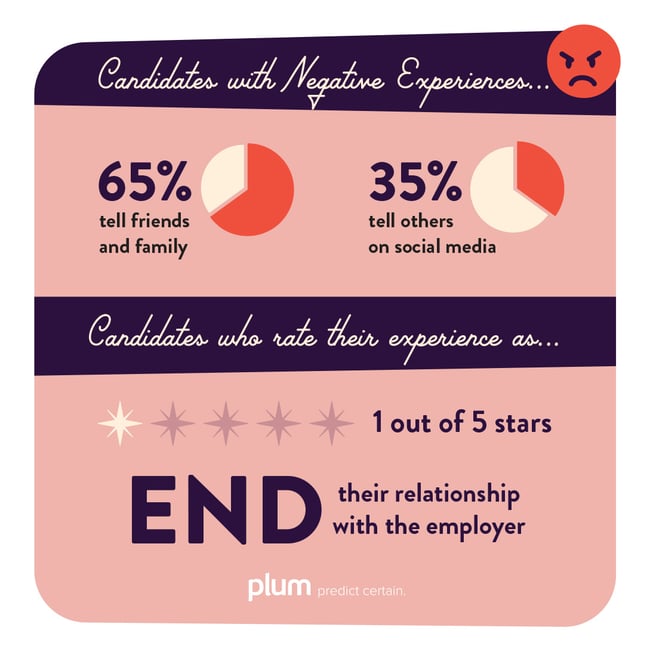 The ROI of Candidate Experience
Losing customers and top-tier talent due to a poor candidate experience can have real financial impact on any organization. If you're trying to determine the ROI of candidate experience, consider the example of Virgin Media. This large, multinational company has both a well-known consumer and employer brand, receives about 150,000 applications a year, and hires around 3,500 people annually. In 2015, over 7,500 customer applicants felt so negative about their candidate experience that they cancelled their contracts with Virgin Media and signed up with competitors instead. This was estimated to be costing the company around $6 million in lost revenue.
Bryan Adams, Founder and CEO of Ph.Creative, the marketing agency that helped Virgin Media revamp their employer brand and candidate experience, explains that their goal was to "make every single job applicant to Virgin Media more employable having experienced its recruitment process—whether they work for Virgin Media or not." Some of the steps they took included researching and understanding their audience personas, quantifying and measuring the current cost of their candidate experience, and mapping each step of the candidate journey in order to understand how candidates think and feel every step of the way. By transforming the candidate experience and turning more candidates into brand advocates, Adams estimated the company would be able to tap into a $7 million revenue stream.
Even if your company isn't as large or well known as Virgin Media, a poor candidate experience may be costing you more than you think. To calculate how much a potentially poor candidate experience is costing your company's bottom line, the Talent Board created a candidate resentment calculator. For example, an organization that hires 1,000 people annually can expect around 100 applicants per hire, which means 99 rejected candidates per hire and 99,000 rejected candidates per year. According to the Talent Board's research on candidate behavior, this can lead to over 23,000 lost customers and over $2 million in lost revenue on an annual basis.
Why candidate experience will be mission critical in 2020
As we mentioned earlier, the concept of candidate experience and its impact on advocacy and job acceptances isn't new; it's something that's been on the radar of most HR and talent professionals for a few years now. So why is 2020 the year that candidate experience will be more important than ever?
Taking a look at global economic trends helps paint a fuller picture. Unemployment is at record lows in Canada, the US, and the UK. In September 2019, there were 0.8 unemployed people per job opening in the US, which means there are currently more open jobs than people looking for work. To put that number into perspective, a little over 10 years ago—in September 2009—it was 8 times higher, with 6 unemployed people per open job.
As an HR or talent professional, you have likely experienced the pains that come with an economy with a lot of open jobs and not a lot of talent actively looking for work. The tables have turned, and candidates now enter the hiring process with more power and agency than ever before.
Top-tier candidates have their pick of the jobs on the market, and perks and benefits that were once considered frivolous—like workplace culture and employers that respect their employees' development goals and work/life balance—have now become critical decision-making factors. For example, recent research from Glassdoor finds that 77% of candidates (from the US, UK, France, and Germany) would consider a company's culture before applying there, and 56% of respondents say culture is more important than salary when it comes to job satisfaction.
Candidates are now in the driver's seat of their careers. Building a positive candidate experience will no longer be a "nice to have" in 2020—it will be business critical.
In the next few weeks, we'll be exploring how you can go beyond simply meeting candidates' expectations and deliver a truly value-added candidate experience. Can't wait to learn more? Download our e-book, The 2020 Guide to Candidate Experience, by clicking here.