Talent Acquisition and Management are among the most difficult aspects of running an organization, and they aren't getting any easier. From concerns about shrinking talent pools and growing candidate expectations to the trend of frequent career shifts, companies have their hands full trying to juggle it all. It is therefore no surprise that an increasing number of companies are turning to tools, such as psychometric assessments, to provide their Human Resource departments with the assistance that they so desperately need.
In partnership with the National Association of Colleges and Employers (NACE), our CEO, Caitlin MacGregor, recently met with Doug Haaland, VP of Talent Management at Whirlpool, James Spearing, VP of Global Talent Acquisition at Scotiabank, and Etienne Vazquez, Head of Entry Business Recruitment at Bloomberg to discuss the talent related challenges that their organizations have faced and how they've been able to rise to meet them with the help of Plum.
Candidate Quality with Whirlpool
For Whirlpool, the ability to select high quality candidates while simultaneously improving the efficiency of their selection process was a critical challenge. Haaland stated that Whirlpool was very focused on selecting an assessment tool that would actually predict a candidate's performance once they were hired, as well as providing relief to their overloaded HR team. Plum's impact was clear. In a blind study, Whirlpool found a strong correlation between the Plum Match Score of their campus hires and the likelihood that they would have been asked to come back to work with Whirlpool full-time. "When we use [Plum] to hire people who score higher on the assessment, you're going to have a stronger team." says Haaland, "You're going to have people that are going to perform higher."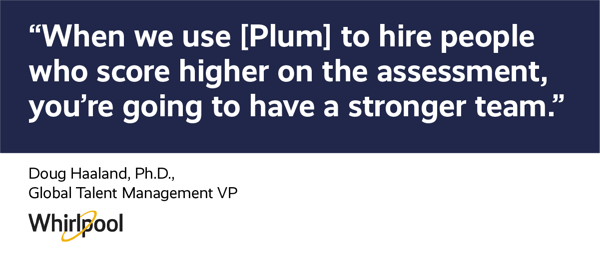 Haaland advises that if an organization is going to implement psychometric assessments into their hiring process, they must consider whether it has been backed by science and ensure that it has no adverse impact on any groups. It is also essential that candidates are left with a positive experience, as they will have many opportunities in their future to purchase products from Whirlpool. Whirlpool knows that they have succeeded in this. Their completion rate is 8% higher than the industry average for psychometric assessments, and many of their applicants have publicly thanked them for the opportunity to receive their Plum Profile.
Going Resumeless with Scotiabank
Scotiabank was facing a similar challenge in balancing an overwhelming number of early talent applicants and ensuring that each student was given a fair shot, regardless of their academic background. "The Scotiabank purpose is for every future." says Spearing "but [were] we really providing that opportunity for really everyone?" Scotiabank addressed this challenge by going resumeless for all campus recruiting and early entrants in 2020 – and Plum was a crucial player in this decision. Plum has helped Scotiabank expand its hiring in more universities and colleges, which has given them a more diverse candidate pool and provided thousands of high performing students, who previously may have been overlooked, with the career changing opportunity to work at Scotiabank. Plum has also improved the applicants' experience by giving each and every candidate a personalized report of their Top Talents and an opportunity to learn about themselves – whether they land a role with Scotiabank or not.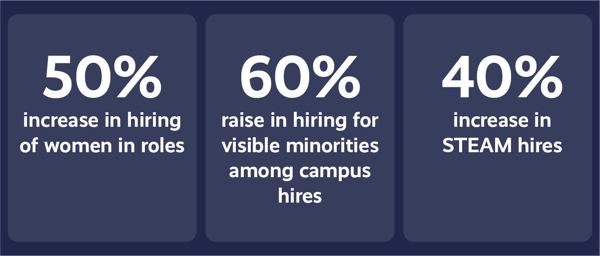 "We'll get people who apply to roles and they may or may not really understand what that role entails," says Spearing, "or the roles that would really align to them in terms of them thriving in the role and doing great things." Plum has been invaluable to them in this area, as hiring managers are able to quickly view an applicant's Match Score across a wide variety of roles and identify which ones they have the talents to excel in.
Campus Recruiting with Bloomberg
Finally, Bloomberg has had great success in implementing Plum for its campus recruitment programs. "When we think about hiring for entry level," Vazquez states, "some of the challenges are not having experience... It's not what has this person done. It's really what could this person do in the future." Plum has helped Bloomberg overcome this challenge by scientifically and accurately articulating a person's capabilities using data that is four times more predictive of job success than a traditional resume. In addition to this, Plum has helped Bloomberg manage the volume of their applicants by focusing on the talent that is the best fit for the roles that they have.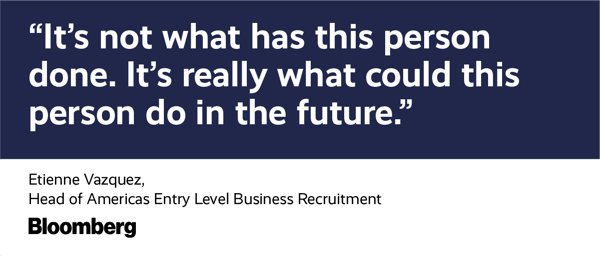 Varquez also highlighted the value of Bloomberg's strong relationship with Plum. The two companies have embarked on numerous extensive calls and conducted case studies to ensure that Plum's full potential is being realized. "We've placed a high importance on this being placed in a process that is changing people's lives, getting people jobs, that we need to make sure there's quality here." says Vazquez, "but to get there you need a good partner."
What Next?
Throughout this discussion, it became clear that Plum not only helps companies navigate the difficult area of campus recruiting but also greatly improves the experience of the candidates themselves. Finding students a position where they can thrive and leverage their natural talents will benefit them for the rest of their career. For the companies, this means that their student hires are engaged in their positions, do great work, and are more likely to return. You can hear more insights from these industry leaders in our Path to Early Talent on demand webinar!
Meet Emily!

Emily is a third-year University business student who started at Plum in May 2022 for her first co-op work term. She loved the company so much that she decided to stay on part-time when she returned to school. Emily was matched with her Marketing Coordinator role using her Plum Top Talents; Communication, Managing Others, and Decision Making. She was excited to leverage her communication abilities in writing this debut blog post, especially considering her connection to the topic of Campus Recruiting. "As a student, I found using Plum to apply for my co-op position extremely refreshing." says Emily, "The application process for most companies was impersonal and I didn't feel that they cared about knowing who I am as a person. I knew I wanted to work for Plum immediately after completing the Discovery Survey. I felt seen, and I wanted to help give that experience to as many other students as possible."
Be on the lookout for more blog posts from Emily in the future!