There are countless resources and technologies available to help organizations become more agile, efficient, and provide a competitive edge. But HR leaders know there is one resource that is infinitely valuable yet often overlooked: employees.
You may do an incredible job attracting the right employee by creating a stellar candidate experience, but how do you appreciate each person once they're officially part of the team? As the world comes back online and organizations continue to swerve and adapt to meet the demands of the future of work, the employee experience is going to be a flagship piece of the talent program puzzle, and creating a development-centric culture will be the guiding light.
More than ever, employees are craving professional development and coaching, so much that not having a robust development program is one of the main reasons an employee will leave the organization. Not only do you need a scalable career development program, you need a tool that can be self-directed by each employee so they can develop their career and make discoveries and connections for themselves.
Self-driven and scalable employee development
The Plum Talent Guide is a personalized and insightful career development tool for every step in the employee journey. The guide uses the industrial organizational (I/O) psychology data collected in the Plum Discovery Survey to provide individualized, talent-based results tailored to each employee at scale, enabling enterprise organizations to roll out to their entire workforce at the same time.
Once an employee completes the 25-minute Plum Discovery Survey, their Talent Guide is presented to them in a thoughtful, highly intuitive, and actionable way. It showcases their 10 innate talents in rank order from high-to-low by how likely they are to excel at each talent at work. It also includes behavioral strengths, so every employee understands which behaviors come most naturally to them, and which require more energy or coping strategies to address.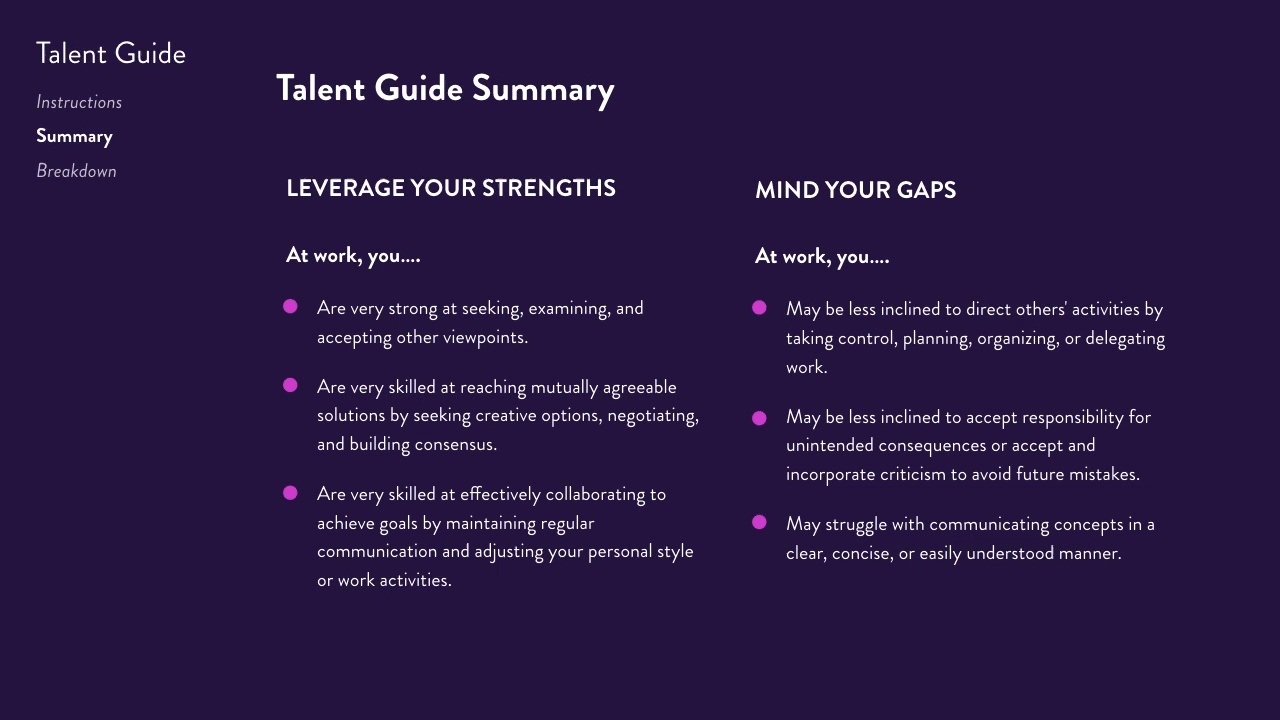 As an employer, you can create and layer in a development roadmap and offer upskilling resources. And people leaders enable success by helping their people stay on target with career goals. The Plum Talent Guide also provides you with a wide-angle view of the talent pool across your entire organization so you can identify, engage, and retain your top performers.
Though employees complete the survey, and the guide is specific to each individual, the entire Talent Guide can be shared with managers to inform continuous, collaborative, and future-focused learning and development. In a time when companies say transparency is table stakes, but many fall short of delivering, the Plum Talent Guide enables organizations to walk the talk.
Engaged employees

play an essential role in your employer brand
By prioritizing a development-centric culture, you're leading with purpose and investing in your people. Your employees will be happier and more engaged, and they'll feel a sense of accomplishment, which boosts productivity, innovation, and communication. All of these increased benefits to the individual will elevate your employer brand, and you'll garner a reputation as a company that cares and looks after its own.
To quantitatively measure the efficacy of the Plum Talent Guide, your engaged employees will be higher performing and are more likely to stay and grow within your organization, boosting your retention rate and reducing costly turnover rates.
To learn more about how Plum can help you elevate your talent management program, we encourage you to book a demo with us to see the Plum Talent Guides in action.