Unless you're Apple or Google, chances are, when a job seeker clicks on your open job on Monster or Indeed, it's the first time they're interacting with your company brand.
And the saying "you only get one chance to make a first impression" rings true for your job descriptions, too.
A job posting is more than just a document — it's often your first touchpoint with a potential hire. Neglecting to prioritize a positive candidate experience could result in qualified candidates bouncing from your job postings without you even knowing.
And yes, you can use your job descriptions to create a candidate experience that delights and intrigues job seekers. And really, you can't afford not to. After all, candidate experience has tangible, financial consequences. A Virgin Media case study found that a bad candidate experience cost the organization $5M annually.
So, a job seeker has clicked on your job posting. How do you convert them from job seeker to applicant with the power of a superb candidate experience?
1. Brag about your company culture
A lot of companies highlight their culture on their website career pages (one of our personal favorites is the "Salted Bone" section on Salted Stone's website), but don't take the opportunity to brag about their culture in their job descriptions.
The number one reason candidates choose one job over another is company culture. And some job seekers may not even get to the point of clicking through to your website from the job posting — so neglecting to highlight your company culture in your job description is a huge missed opportunity to attract talent looking for a workplace that offers a stellar company culture.
Does your company offer employee benefits? Unlimited vacation days? A dog-friendly office? Professional development opportunities? Flex time? Highlight them in the opening paragraph of your job descriptions — because if you don't pique job seekers' interest right from the start, you run the risk of them moving on to the next job.
2. Details, details, details
A survey found that 58% of job seekers described a lack of detail in job postings negatively impacted their application experience. Which isn't surprising; job seekers want to know exactly what the role entails before dedicating the time to apply for a job at your company.
If you're unsure of how to add more detail to your job description, consider including some of the following information:
Describe day-to-day responsibilities

Indicate how their role affects the overall organization

As mentioned above, detail culture and perks
According to Indeed, job postings with descriptions between 700 and 2000 characters get up to 30% more applicants than other job postings. So the key is making sure that your job descriptions are detailed, but not so long that they lose the job seeker's interest. One way to keep your job description under 2000 characters (while still leaving the door open to further detail) is to provide a chatbot or other live chat feature on the careers page of your website, allowing candidates to ask further questions that they may have.
3. When you say entry-level, you mean entry-level
This is a big one here, folks. There is absolutely nothing more frustrating for a job seeker looking up "entry-level jobs" than to click on the posting and discover...they need 3 years of experience. In fact, a recent study found that 61% of "entry-level" jobs require 3+ years of experience. That's because employers are driving what's called "experience inflation," and in just a few years, job seekers will need ~4 years of experience just to get their first job.
61% of "entry-level" jobs require 3+ years of experience. Are you wasting job seekers' time?
The head of that same study reviewed 1,286 supposedly entry-level jobs and had to discard 94% of them because they required years of previous experience. There is no greater killer to a job seeker's overall candidate experience than wasting their time. Are you wasting 94% of job seekers' time by labelling jobs as "entry-level" when the roles really require 3+ years of experience?
Not to mention, employers often hire people with +/-2 years of experience listed in the job description. So we can pretty reliably conclude that years of experience is an arbitrary role criterion. The research shows that factors like cognitive ability and personality are far more predictive of on-the-job success, anyways. So when you say an entry-level role requires 3 years of experience, are you just turning away potentially qualified candidates for absolutely no reason?
4. Keep your job description visible at every stage and page
As mentioned earlier, job postings are often a job seeker's first interaction with your company brand. Whereas they might just seem like a document to you, a job seeker keeps them near and dear throughout the entire hiring process, consistently reviewing it.
If your top-of-funnel applicant process requires job seekers to leave the original job posting (such as requiring the applicant to complete a pre-employment assessment), you can maintain a continuity of user experience by ensuring the job description appears on external links and pages applicants are clicking to.
Plum is making this easier than ever with our new job description feature. When applicants click on the link in your job description directing them to complete the Plum Talent Assessment (which measures candidates' talents such as innovation, adaptability, communication, and more), applicants are directed to a login page that now clearly includes the job description. That way, applicants can rest-assured that they are completing the necessary steps to apply for the role that they had just read the job description for. Converting job post readers to applicants has never been smoother.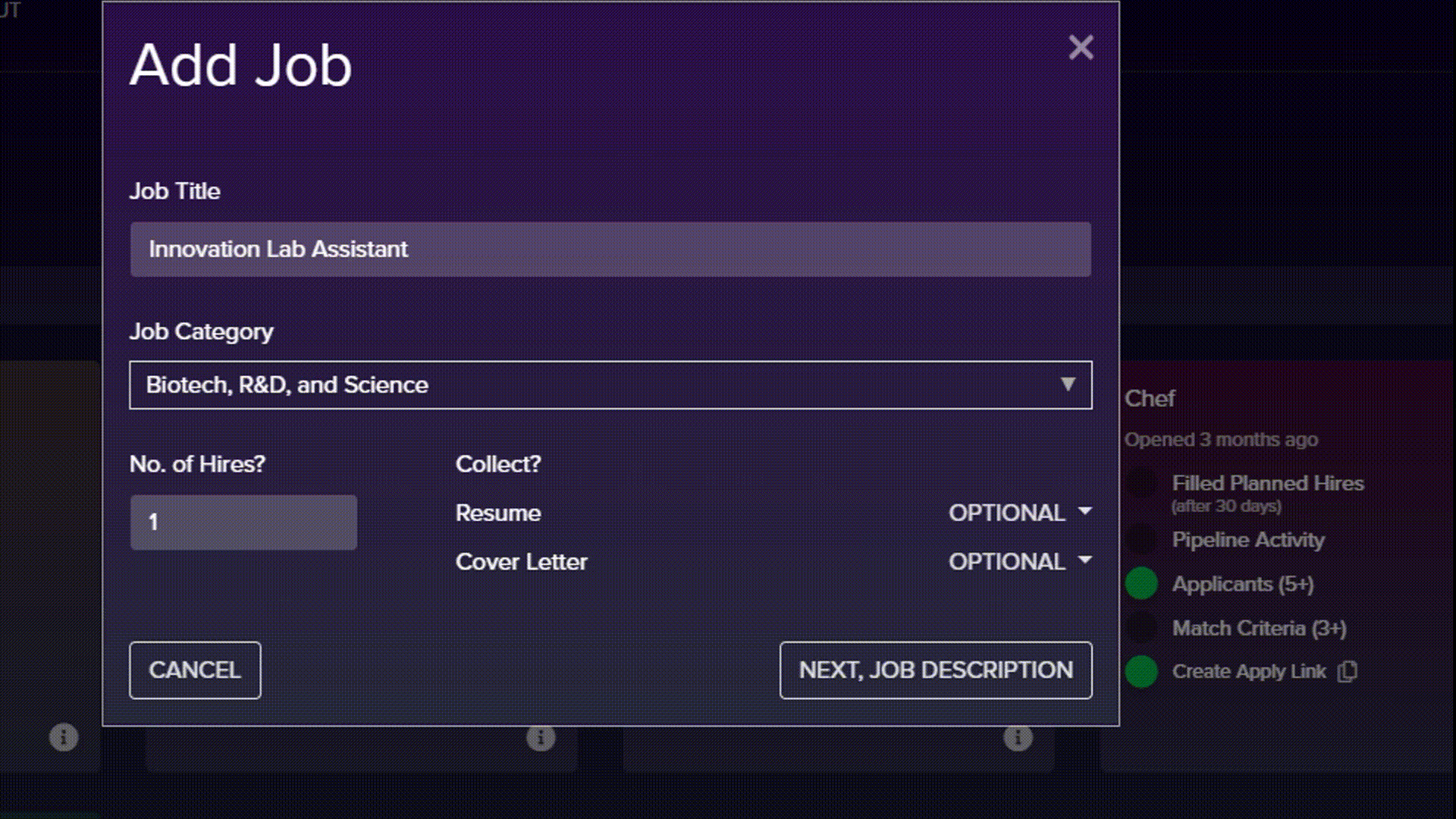 And if a job seeker clicks on link that leads to a closed job, they are automatically redirected to a dashboard of other open job postings (including their job descriptions) available at your company. Suddenly, a closed job becomes a job board, perfectly customized for your company. After all, the job seeker has already expressed interest in working for your company by clicking to the application — don't let that interest go to waste!
Summary
To summarize, you can achieve an immersive candidate experience in your job descriptions by:
Listing company culture details in the first paragraph

Making your job postings as detailed as possible in under 2000 characters

Considering how many years of experience are

actually

required for the job, and being honest about it (i.e. don't say "entry-level" if you need 3 years of experience)

Making sure the job posting is always visible to the job seeker, even when they click to external application links
Enabling job description visibility is not the only way Plum helps companies build immersive candidate experiences.
Check out
our deep dive into how our customers build stellar employer brands with their Plum databases.