As the economy continues to recover from the disruption caused by the pandemic, many organizations are dealing with the challenges of attracting and retaining talent — as the current demand for labor continues to grow and voluntary turnover continues to increase at a record high.
A recent Gartner survey found that 91% of HR leaders are concerned about employee turnover in the coming months.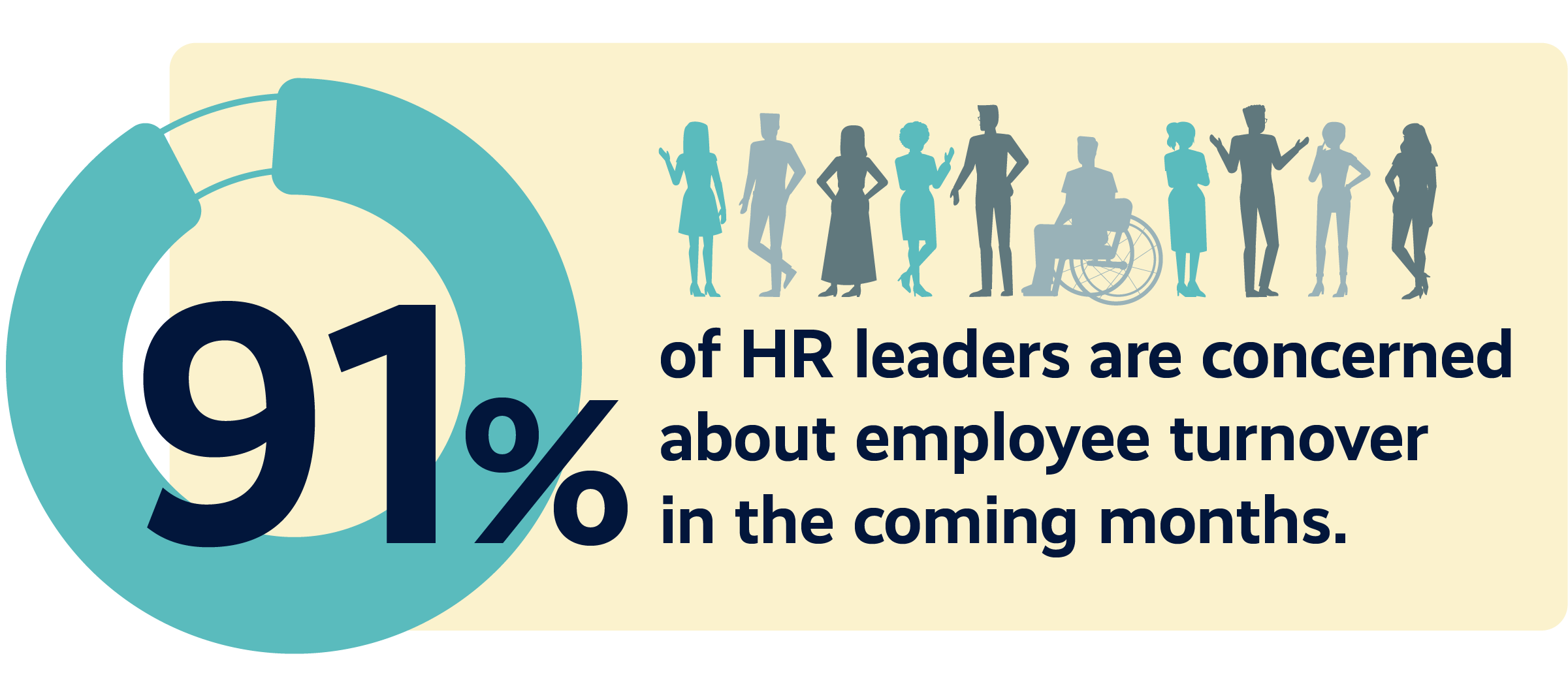 So, what can organizations do to mitigate their recruitment and retention challenges? Consider investing in and mobilizing their existing talent.
Why Mobilize Talent?
A study of over 32 million LinkedIn users found that the likelihood of an employee staying with a company decreases as the years pass from 76 percent to 38 percent in the first five years of getting hired.
But employees who get promoted within three years of being hired have a 70 percent chance of staying, and those who make a lateral move have a 62 percent chance of staying.
Surprisingly, many organizations struggle to make internal mobility a reality within their organizations. A new report fromThe Conference Board found that 61 percent of TA's and HR leaders reported that their organization does not have a cross-functionally integrated talent mobility program.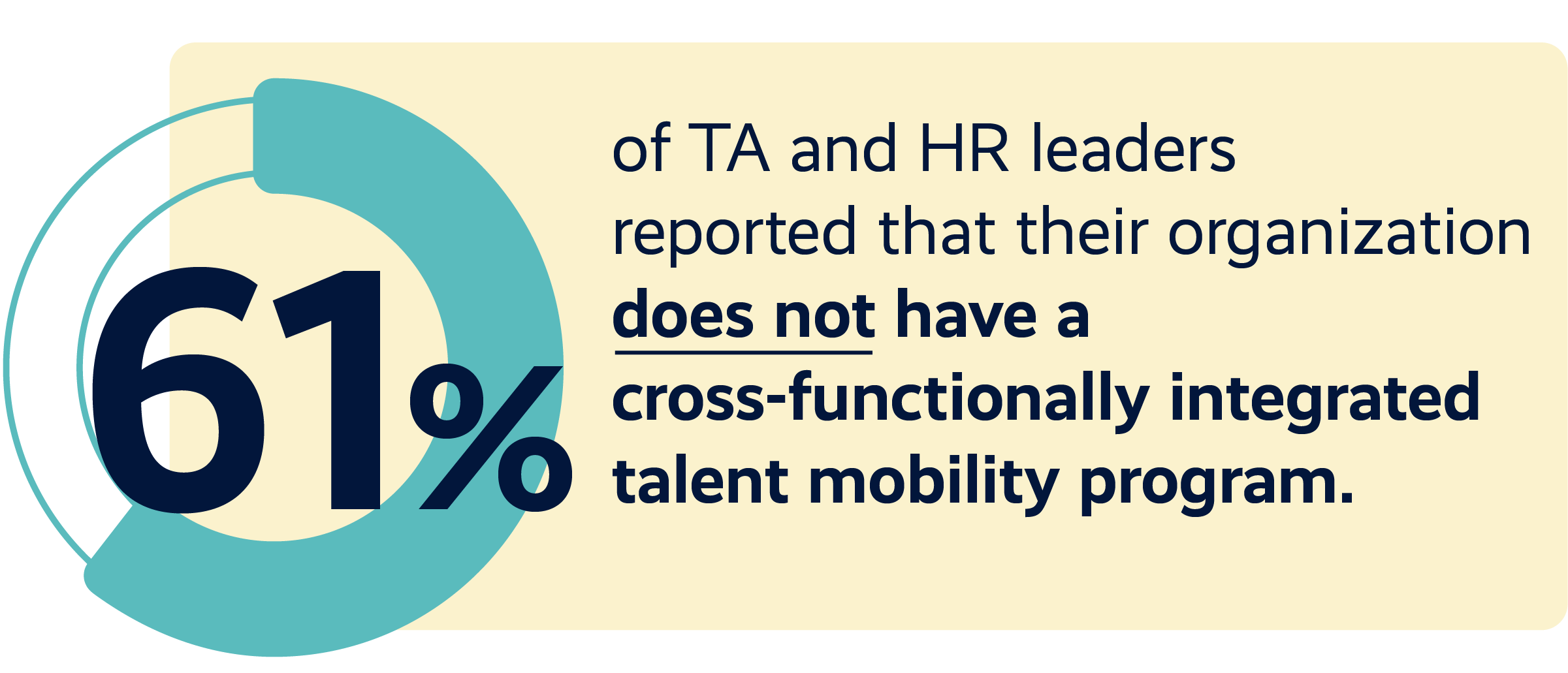 Only 34 percent report that their organizations have implemented an internal talent marketplace platform to allow employees to see all open positions and potential career paths.
While only 28% of global companies believe their internal mobility programs are effective or very effective at achieving their strategic aims.
It's no wonder more than 50 percent of employees reported they find it easier to find new—and more attractive—opportunities in other organizations because they don't have the chance to explore and move to new roles within their current organization.
Invest in Your Workforce
Internal mobility means so much more than just filling vacant roles in a company from within. It's an investment in your people and the future of your organization.
Research from LinkedIn revealed that 94 percent of employees reported they would stay at an organization longer if their organizations provided them with the opportunity to move careers and invest in their learning and development.
Providing employees with the proper training and development opportunities contributes to a higher success rate for an organization. But it also increases an employee's job satisfaction when they feel their skills are valued and recognized and their leaders empower and support growth in their careers.
Not to mention, tapping into your existing talent pool also saves your organization valuable time and money. Hiring internally can help fill positions quickly and keep the onboarding requirements to a minimum.
Deloitte reports that new hires usually take around two years to reach the same performance level as an internal hire. Companies that hire internally are 32% more likely to be satisfied with the quality of their new hires
Where to Start?
It all starts with understanding who your employees are — the skills and capabilities they possess, what drives and drains them. Without understanding what makes your people truly unique, what makes them feel fulfilled or burnt out at work, you won't know what kind of development they need or successfully match them to roles where they'll succeed.
Leveraging human potential data can help you grow your people. By understanding your people's behavioral skills and talents, you can identify and deploy people with the right skills and abilities to open roles where they will thrive—helping them stay engaged, happy and motivated in their roles and at work.
For talent mobility to be effective, HR leaders must identify talent gaps and skills required for roles and invest in developing their people to successfully conceptualize their potential career paths.
Sound challenging? Plum can help.
With a single psychometric assessment, Plum empowers organizations to optimally mobilize their talent by helping HR leaders understand the human potential within their entire workforce. So, they can match existing employees to emerging opportunities across their organization—helping them hire, grow and retain their talent.
Our objective talent data also helps organizations screen people in based on their potential to thrive in a role, surfacing high potential candidates who may have been overlooked in the past—expanding their talent pool and increasing their diversity of hires.
Curious about how Plum is making internal mobility a reality for our enterprise customers?
Join our free webinar on November 8, 2021, at 1 pm ET with Global HR Analyst Josh Bersin and Plum CEO Caitlin MacGregor as they discuss the role of technology and data in eliminating bias in hiring and encouraging equitable talent mobility.
Caitlin will also be sharing how our Enterprise Customer Sitel used an assessment-based approach to make internal mobility a reality and successfully rolled it out across 26 countries.