Redeployment in response to disruption and change is often painful. Employees face nerve-wracking uncertainty, while leaders struggle to define new job needs and move the right people into both existing and emerging roles.

Over the course of the COVID-19 pandemic, redeployment took center stage for many organizations as they adjusted business strategies and faced either rapid downsizing or rapid expansion. Whether they were growing their workforce or shrinking it, leaders had to find a way to quickly and effectively align their talent with their changing business needs.
Looking ahead, one thing is certain: as we move out of the pandemic and businesses pivot once again, redeployment remains a key lever for companies to optimally align talent with business goals.
The good news is that redeployment doesn't have to be a painful experience for employees and employers alike. Using insights from Industrial/Organizational (I/O) psychology, companies can move away from thinking of redeployment as a reactive exercise to slot people into new boxes on the org chart, to a proactive approach that sees companies leveraging the potential within their workforces, so that employees and businesses can both thrive.
In a recent webinar in partnership with the Society for Industrial and Organizational Psychology (SIOP), Plum's I/O psychology experts, Dr. Amanda Deacon and Dr. Leann Schneider, joined Research Scientists from SAP SuccessFactors, Dr. Lauren Bidwell and Dr. Lauren Park, to share best practices for how organizations can make employee redeployment better for everyone involved.
Here are three key takeaways from their presentation to help guide leaders and HR teams through the redeployment process:
1. Facilitate employee well-being throughout the transition
Redeployment has a significant impact on the employee experience, often creating feelings of insecurity among those who are going through the process. When employees face a workforce re-organization, they often feel a reduced sense of control, and research has shown the feeling that they are losing autonomy can lead to employees feeling demotivated and stressed.
To make the experience less painful, leaders should focus on facilitating employee well-being throughout the redeployment process by:
Being transparent in communications to increase trust, while framing messages in a way to facilitate acceptance and positive reactions;

Inviting employees to be part of the redeployment process, since giving them a voice can help reduce resistance;
Creating opportunities for employees to participate in job crafting, which can decrease employee stress related to job insecurity, increase engagement, and heighten a sense of workplace identity;
Driving a culture of psychological safety, which allows for further information sharing, work engagement, creativity, commitment, satisfaction, and performance; and
Ensuring employees have sufficient role clarity to increase psychological safety, self-efficacy, and in turn, lead to satisfaction, higher performance, and increased commitment to the company.
2. Create a positive learning climate across the organization
As employees are placed in new roles, develop new skills, and take on new assignments as a result of the redeployment process, it's important that the organization creates a positive climate for learning. This means shifting from a top-down, one-size-fits-all approach in which learning feels infrequent, stale and only used for compliance, to a self-directed approach where employees make learning personal and feel supported by leaders and the company (Palmer & Blake, 2019). Creating a positive learning climate helps to build a sense of psychological safety by encouraging agile mindsets, counterfactual thinking and reflection, learning from experience, experimentation, and feedback seeking (DeRue et al., 2012).

According to a report from the SAP SuccessFactors research team entitled Building Future Capable Workforces, a learning climate includes 5 key dimensions:
Management Support: employees feel that their immediate managers sees their development as being important
Time: employees are given the time they need to learn new skills at work
Opportunity to Develop: employees are given the chance to try new things at work
Autonomy and Responsibility: employees are encouraged to take responsibility for their own learning
Resource Availability: training is provided, if employees want or need it
For employees, a strong learning climate is positively related to overall engagement at work, belief that their job makes good use of their skills, the belief that they need to learn new skills in the future, and the perception that their organizations communications the most important skills to them.
3. Design work, processes, and systems around people, not the other way around
To truly make redeployment a positive experience for both employees and employers, organizations need to stop thinking about redeployment as a task where a certain number of roles need to be filled. Instead, they should think about redeployment as realizing the full potential of the workforce and finding roles for employees that will allow them to continue to grow and thrive in the company. This means putting people at the center of how work, processes and systems are designed.
To create a people-centric process, organizations first need to understand their people using data. There are two types of information that companies can look at in this instance – the traditional and the non-traditional.
Traditional information includes knowledge (e.g. degrees, certifications, etc.), hard skills (e.g. software and tools), job titles or previous experience, and performance ratings. However, this information may not provide the full picture of an employee's potential, and may limit leaders' perceptions when it comes to the roles in which they think employees may succeed. When it comes to redeployment, it can be the case that no one has the exact skills and knowledge for the new role, so having other identifiers of potential performance in a new role can be very helpful.
Those other identifiers are considered less traditional criteria for movement, and can include company knowledge, culture fit, and soft skills. Technology solutions like Plum allow organizations to define the required soft skills and abilities for a role using scalable assessments, while simultaneously measuring each employee's soft skills. With these data points at their fingertips, organizations can then compare the needs of a job to an employee's profile in order to determine the best fit for every role – setting the employee up to thrive as they take on a new opportunity.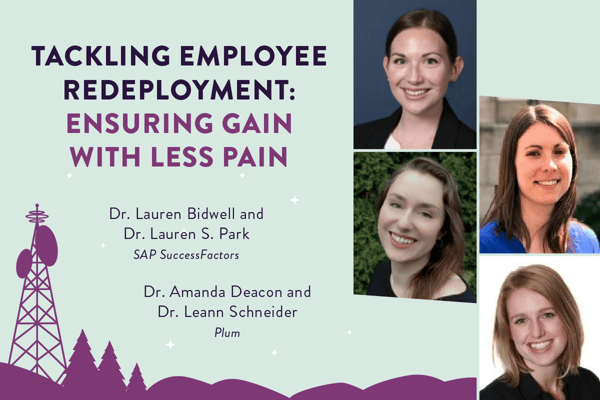 To dig deeper into the benefits of leveraging redeployment during times of disruption and change, as well as how to overcome common redeployment challenges using I/O psychology, check out the full on-demand webinar recording.
And if you're interested in learning about how Plum can support your organization with optimizing your redeployment efforts, schedule a chat with a member of the Plum team today.